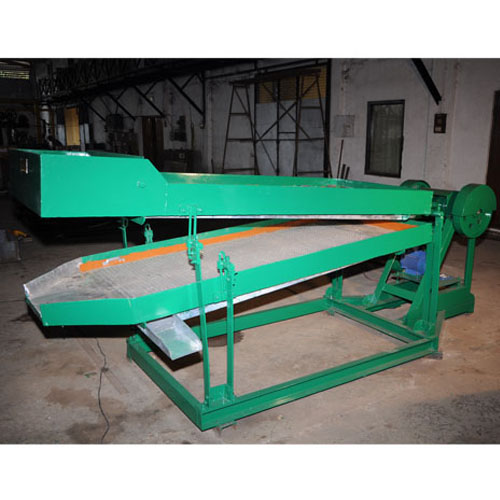 Construction of Tea Myddleton Machine
Perforated dimpled trays are fitted in the two decks of the machine in M.S. framework. The frames rest on spring legs. A heavy M.S. fabricated stand supports the crank and work as motor stand also.
Trays
Two Aluminum Dimpled Trays with 3/16"(4.76mm) and 17/64"(6.75mm) perforation are supplied with the machine. If required, perforation of other sizes can also be supplied.
Features of Tea Myddleton Machine
The complete machine is mounted on channel iron chassis as a single unit, eliminating the need of foundation.
The crank is straight shaft with excentric block instead of forged shaft. Bearings are used in place of brass bushes.
Technical Data & Specifications
| | |
| --- | --- |
| Length | 3400mm |
| Width | 1320 mm (with discharge chutes) |
| Height | 1400 mm (feed end) |
| Power | 2 HP/ 960 RPM Motor |
| Crank | Excentricity - 19 mm |
| | Throw - 38 mm |
| | Speed - 205 RPM |