Tea sorting machine play a big role for grading tea and get good price from the market. In short Tea sorting machine classify tea according to size and shape and also remove foreign particle from the tea. We are at Bharat Engineering Works an oldest tea machinery manufacturing and supplying company in India who offer the complete tea sorting and grading solution for your business.
With the increase in the number of tea drinker and lover in India, sorting of tea has gained importance.
Previously, tea sorting was practiced mainly to remove foreign matter and big leaves and did not require the same degree of management as other operations of tea manufacture. People used to perform the sorting task manually. Small pincers were the best tools for eliminating long stalks. But presently, the main objective is to classify tea based on the size of the leaves. Mere manual methods are no longer practiced. Sorting allows identifying the best grades of tea and fetches the prices accordingly. Nowadays teas are sorted according to their size, shape, specific gravity, and surface characteristics of the particles.
Modern Tea Sorting Machinery - Complete Sorting Solution
Slow Speed Fibre Extractor: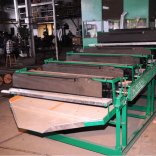 Slow speed fibre extractors cum tea sorters eliminate rubbing effects and ensure clean tea without any loss of bloom. The machine is easy to install and occupies less floor space.
Vibro Screen Sorters
This kind of sorting machines incorporate different sieves with meshes of size 8,10,12,16,24,30 or greater. Tea passed over a number 8 mesh is cut and sifted again, and so on. Tea is classified into grades such as whole leaves, broken leaves, fanning, and dusts passes through the various meshes. The machine ensures a continuous flow of production without any need for resorting. The decks are easily accessible for cleaning and inspection, ensuring perfect quality tea at the end of the production chain.
Auto Batch Weigher
This is a microprocessor based, single load cell weighing system that ensures accurate and reliable weighing of tea from the dryer mouth. It has easy and minimum maintenance and digital display of total weight and current weight
Thus if you are looking for tea sorting machines with high capacity and efficiency, look no further. You are just on the right page. Contact us to help us serve you with the latest machines and technological developments.